How to Become a Member
At the teller, select the "Join The Wash Club" button and then select the club you desire
After you go through the wash tunnel with your vehicle, present your receipt  to the first employee you see. Management or a floor lead will fix an RFID tag on your front windshield and answer any questions you may have. At the same time, we will have a signup sheet for you to fill out in order for us to get your account set up. Once you receive the RFID tag and have signed up, we will take care of the rest.
Once it comes time to wash your car again, simply drive up to the automatic teller and wait for the teller to read your RFID tag. Once your tag is registered, it will ask you if you want any other services. Once you have made your choice the gate will open and you can redeem your daily wash.
Your account will be charged on a monthly basis and you will have access to our facility. You can suspend your membership at any time.
Club Brochure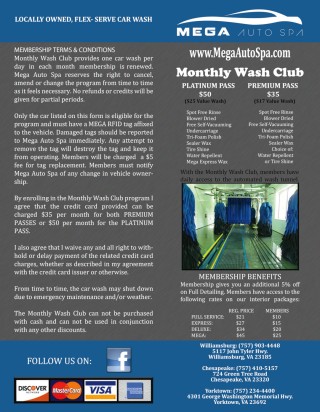 (click to enlarge)